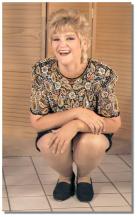 Rebecca Happy Girl
My name is Becca and I am from Deland Florida. I am a single parent of two children. I'm very active in the size acceptance movement. Even my job is in that area. I am the office Manager at Bigger And Better Enterprises. We have great plans for this year including the expansion of our benevolance program. Which is now one of the things I am helping with.
I am really happy with my self now.Day by day I get more confidence in myself and the way I look.I have overcome many obstacles.A few years ago I weight 421 lbs. I have lost 270 lbs with weight loss surgery. Thats not the answer for everyone but I am happy with the decision I made in having it.
I am hoping that this will be the year that I meet my Prince Charm. So if any of you lil Mice out there suddenly find yourself turning into my Prince please come find me! :)
One of my favorite things to do is dance. I really enjoy going to the various BBW events and dancing all night long. Feel free to ask me to dance if you run into me at a Party. It is always fun to find a new dance partner!
My favorite motto is "go for it, get it,,,,,and if you enjoyed it,,,,get it again...It's a life thing." and I try to live by it! Just do what feels good, forget what society tells you is right. If it is not against the law, then why not have fun. You don't want to hurt anyone, but Gosh, you only get one life,,,,,,so live it up!!!