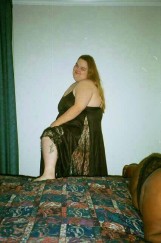 Name: Stacey
size:26
South Carolina
age:26
email: gvlhonlex69@yahoo.com
I enjoy spending time with my other BBW friends, and meeting new people. Love to go to movies, or just spend a quiet evening at home with someone special.
I am shy at first until I get to know someone. Love to go swimming. Looking for someone that we can be friends at first, then who knows, may develop into something more. I love kids, though I do not have any of my own I have a four y/o nephew and one y/o neice that are my heart. Looking for someone age 23-45. Age is not a real issue. I am a very open-minded person. I also have alot of gay and bi male and female friends, so whomever I am involved with will have to be open-minded to that also.